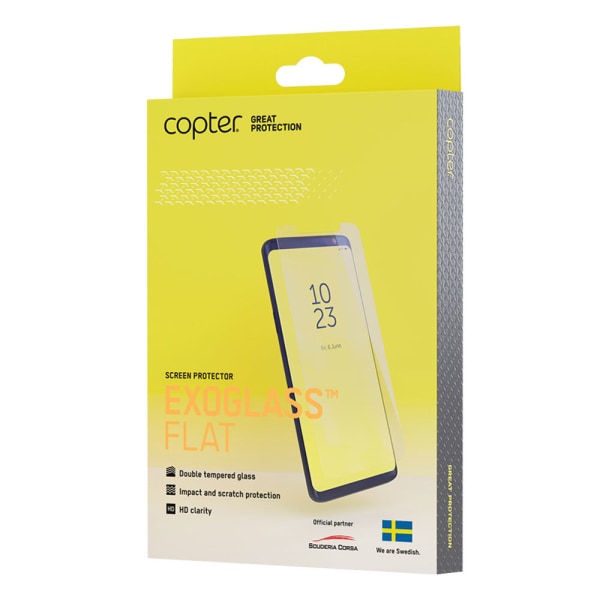 Copter Exoglass OnePlus 7T Transparent
Pidempi toimitusaika
ke, 25 touko - ma, 20 kesä
3-20 työpäivää
Copter Exoglass OnePlus 7T (Smal Version)

Copter Exoglass minimizes the risk of damaging your mobile device display in regular use, protects its surface, and preserves a flawless appearance of your gadget throughout its life cycle.

The Copter Exoglass is a multi-layered screen protector consisting of 4 layers of materials used for manufacturing protective glass in the defense industry.

Its main component is a thin layer of optical glass which is chemically tempered at the molecular level. This type of glass has a technical hardness comparative to steel. The internal side of the glass is reinforced by a PET-film containing a layer of special silicone adhesive material. The oleophobic coating on the external side of the glass enables the reduction of fingerprints.

The obtained composite material possesses a great number of significant properties, such as improved optical characteristics, high mechanical strength, resistance to vibrations, drastic drops in temperature, humidity resistance and chemical stability. The material is able to effectively withdraw physical impacts as impact energy is dissipated and absorbed inside the glass.

A combination of operational characteristics of the Copter Exoglass ensures a reliable screen protection even under extreme conditions. That helps you to save money as you don`t need to replace either your device display nor the original glass.

Fitts: OnePlus 7T

Artikkelin numero
d09a20c0-fd15-4add-bbcc-31629eaefdae
---
vuosi sitten
Fel storlek, fattas 1cm på höjd😓
---